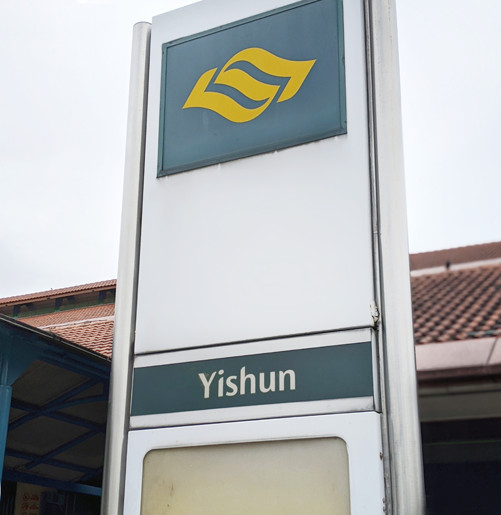 A hood bearing the infamy of being the strange part of Singapore, but here's a Yishun best food guide worth braving the crazies.
Maybe a bit out of the way, but Yishun is perhaps one of the most underrated areas in Singapore for food. From classic hawker places to innovative gelato, this list covers them all.
Who better to introduce you to the crazy and character-filled hood of Yishun than yours truly, Son of Yishun, and one of the crazy people who inhibit the hellhole that is Yishun? Here are 13 (an appropriately auspicious number) of the best food in Yishun worth going to hell and back.
618 SIM Carrot Cake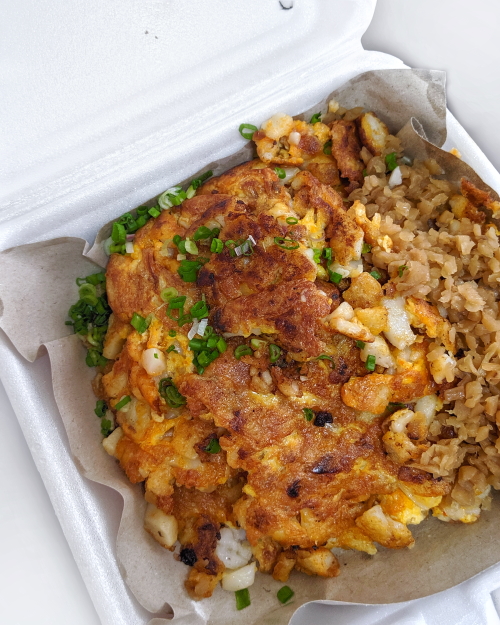 This might be proof that Yishun dwellers are crazy. Why? We are willing to queue more than half an hour for carrot cake ($4). 618 Sim is worth the wait though.
An outstanding rendition featuring a substantially crispy and eggy exterior which blanketed the moist but fluffy innards. It was supplemented with a lavish heap of cai poh that gave it a further sweet-savoury punch. Genuinely think it's one of the best I've had in Singapore.
618 SIM Carrot Cake
Address: 618 Yishun Ring Rd, Singapore 760618
Hours: (Wed-Mon) 7am-2pm (or sold out)
Bloom Artisan Cafe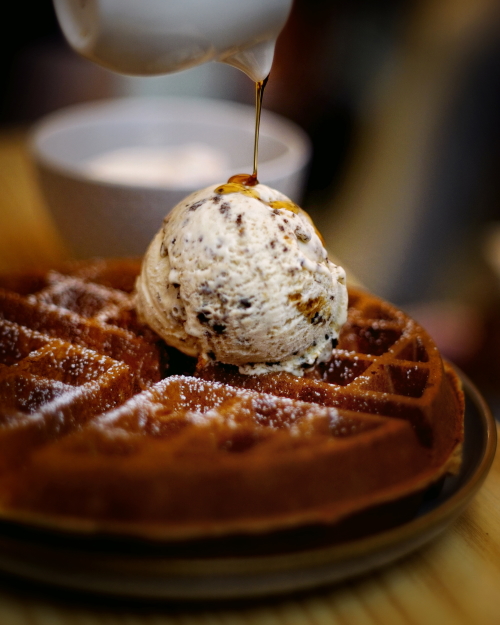 Yishun is not as gentrified as you think, even with all our immortal witch residents. Speaking of which, newcomer Bloom Artisan's gelato offerings will absolutely bewitch you.
Their brown butter sourdough waffle ($4) was seemingly conjured through sorcery. Exceedingly crispy with fluffy moist innards that carried a hint of sourdough twang, don't miss this. Paired well with the spectaculoos, cookies and cream (classic – $3.50 single / $$6 double) as the straightforward richness and fragrant biscoff accents provided a nice contrast.
For something special, the wheat milk was controlledly sweet with a clean malty freshness, underscored by a silky but also charmingly sticky texture. For the adults, their whisky crancherry (premium – $4.20 single / $7.40 double) smouldered on the tongue with some hard-hitting whisky notes that melded nicely with the sweet-sour fruit undertones.
Bloom Artisan Cafe
Website | Facebook | Instagram
Address: Block 645 Yishun Street 61, #01-322, Singapore 760645
Hours: (Mon, Wed-Fri) 12pm-10pm, (Sat-Sun) 11an-10pm
Yishun 928 Laksa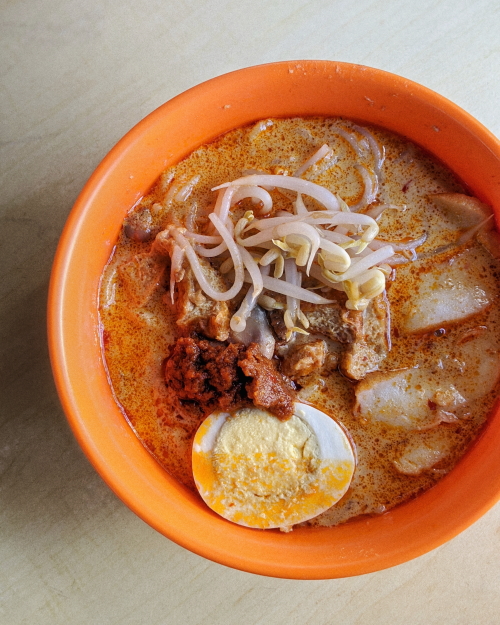 This legendary establishment's laksa ($2.80/$3.30) has never disappointed since secondary school days. Tasteful touches of sweetness and coconut fragrance permeated the lightly creamy broth, which just gently caressed the tongue without being too heavy.
The fragrant sambal also added some spicy nuance to it, whilst flavours still remained eloquently balanced. Not a laksa that screamed with heavy flavours, but one that comfortingly serenaded the soul with wholesome warmth.
Yishun 928 Laksa
Address: 928 Yishun Central 1, #01-155, Singapore 760928
Hours: (Mon-Sat) 8.30am–6pm
Old World Bak Kut Teh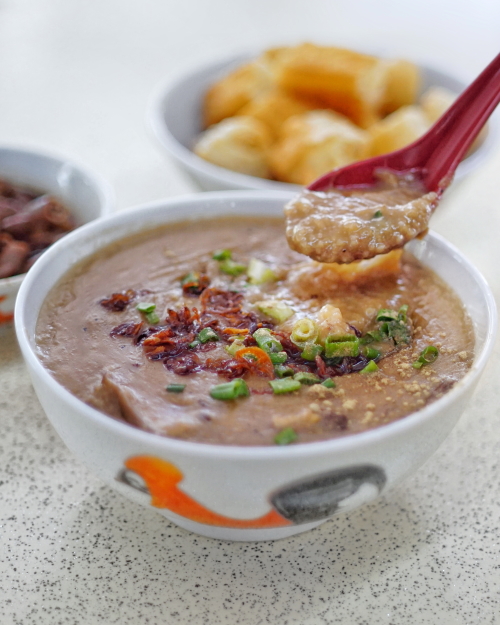 The hood known for cat murderers and psychopaths are experts at cooking organs. Who knew? Old World is a new kid on the block but I've eaten this mixed organ fried porridge ($5) more than my blood sodium levels would be comfortable with.
From being wok-fried with a wealth of pork and organs, it was rich and heavy-hitting in profile with a gratuitous dose of smoke. This would scratch all the itches of wok hei lovers as the char even found its way onto the ingredients, which surprisingly helped soften the taste of offal.
Pair it with a side of braised intestines ($4) or even the fried intestines ($4), which sported a crazy crisp skin and heavy five spice flavour quite reminiscent of chewier sio bak.
Old World Bak Kut Teh
Address: 747 Yishun Street 72, Hiap Hoe Eating House, Singapore 760747
Hours: (Tues-Sun) 10.15am–2.30pm, 5pm–8.30pm
Ah Tan Wings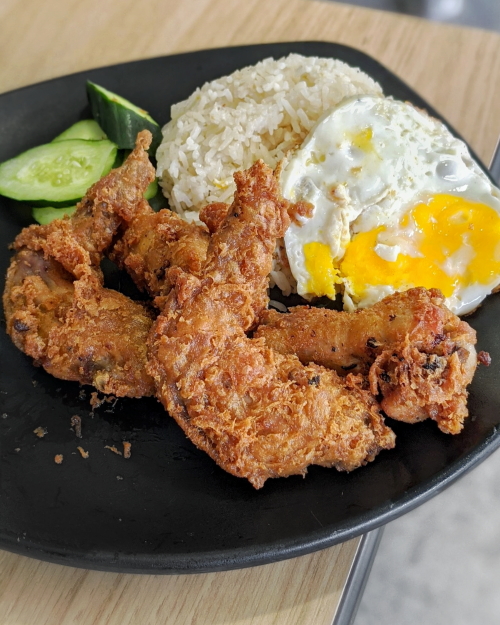 This famous Har Cheong Gai is probably Yishun's greatest export, having gone on to open more branches around Singapore. This Atas Wing Meal ($5.30) is one of my must orders at Yishun Park Hawker Centre.
It's quite a sensual experience to de-robe the airy double-fried layers and expose the succulent flesh which overflowed with prawn paste umami. Served with fragrant, non-greasy chicken rice and supplemented by a potent but piquant blend of chilli, it always makes for a pretty satisfying meal.
Ah Tan Wings
Website | Facebook | Instagram
Address: Yishun Park Hawker Centre #01-40, 51 Yishun Ave 11, 768867
Hours: (Daily) 11am-8pm
chuan kee boneless braised duck
Many would be shocked to hear Yishun has a Michelin-Affirmed stall. Well not quite, this is the branch of Ghim Moh's Chuan Kee but they are quite on par.
I've eaten this duck rice ($3/4/5) since secondary school. Standards dropped slightly but it's still pretty good for the price, especially with the generous portions.
Rice was generally fluffy, though with mild dry spots, and paired beautifully with the flavourful braise sauce. Finished with an abundance of peanuts, bouncy tofu and tender duck meat scant of gameyness — it was an enjoyable and filling lunch
chuan kee boneless braised duck (Chong Pang)
Address: Chong Pang Market & Food Centre, 104 Yishun Ring Rd, Singapore 760104
Hours: (Tues-Sun) 10am-8pm
51 Noodle House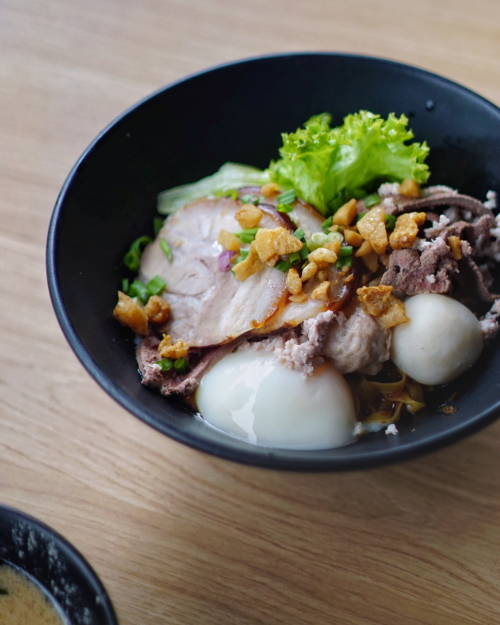 If mazesoba was Japanese BCM, their signature minced meat noodles ($5.50) would be the Singaporean re-translation. With an onsen egg to jazz up the texture, it's the familiar blend of vinegar spice but heavier and silkier in texture.
The usual suspects of BCM were there — liver, minced pork, lard. They were all cooked proficiently but it was the tender slices of chashiu that really set it apart from your average BCM. A very solid bowl of BCM at heart but its charm lay in it subtly cosplaying as mazesoba.
51 Noodle House
Address: Yishun Park Hawker Centre, 51 Yishun Ave 11, #01-27, Singapore 768867
Hours: (Thurs-Tues) 7.30am-8pm
Feng Food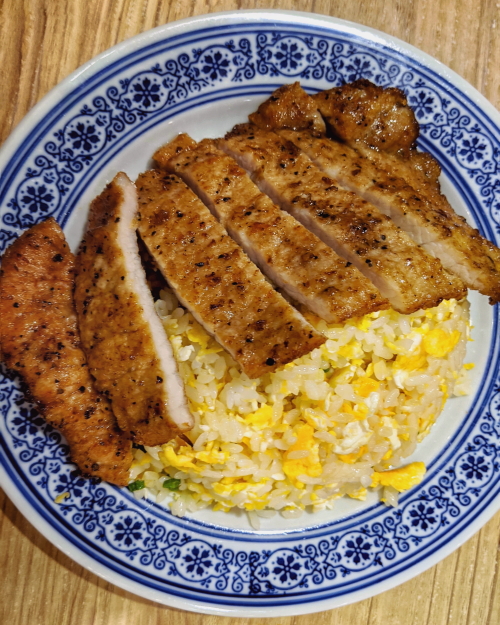 Fried rice is one simple homely dish that everyone loves, and this Taiwanese eatery's fried rice with pork chop ($12.30) is up there with the most beloved places like DTF and my favourite King of Fried Rice .
The pork chop was juicy, oozing with umami and also tender with just the right amount of bite to round it off. Fried rice was a tad lacking in wok hei but it's a nice fluffy plate that wasn't greasy at all. Definitely one for the fried rice bucket list.
Feng Food
Address: Northpoint City, 930 Yishun Ave 2, #B1-156, Singapore 769098
Hours: (Daily) 11am–9:30pm
Chong Pang Nasi Lemak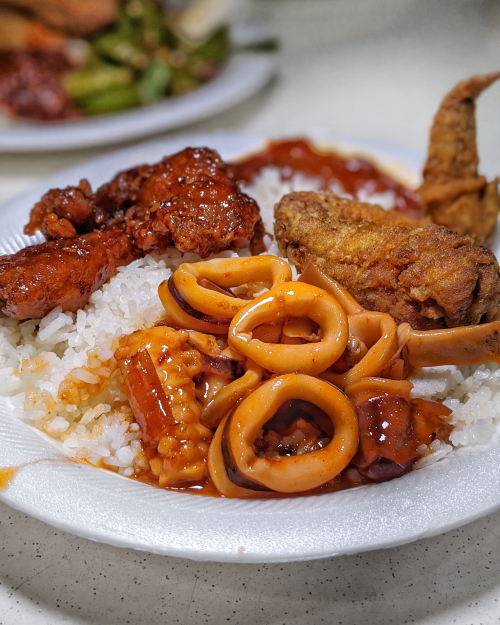 If there's one thing that drew people to Yishun, it's Chong Pang Nasi Lemak as seen from constant snaking queues. Admittedly standards have slipped but the rice is still quite fragrant and the chili still vibrantly sweet and spicy.
My must-orders here are the insanely crispy chicken wings and their sweet and sour fish with its glorious piquancy and sweetness, underscored by a mildly crunchy skin.
Chong Pang Nasi Lemak
Address:

447 Sembawang Rd, Singapore 758404

Getting There: Take a bus from Yishun MRT
Hours: (Daily) 5pm-6.30am
Price Range: $4-$6
Hai Xian Zhu Zhou (Ke Kou Mian)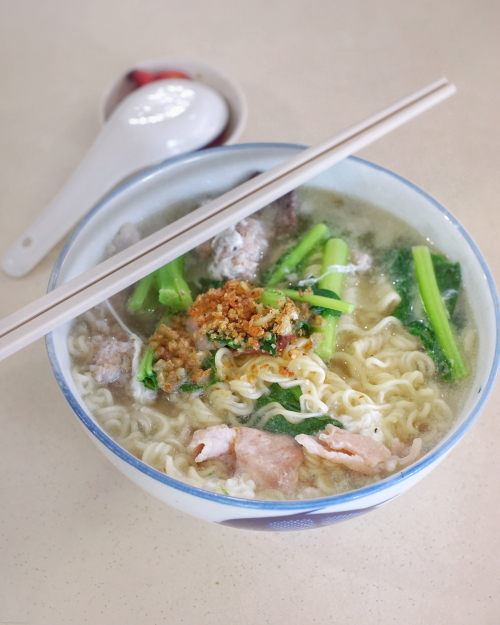 The famed bukit panjang Ke Kou Mian actually has a stall in Yishun too! Renowned for its remarkably flavourful broth, this is not just your average bowl of instant noodles.
The pork ke kou mian ($4) came with a generous amount of tender pork and pork liver, and more importantly the koka noodles were cooked to a perfect springiness whilst soaking up the broth really well.
Some may find the overall profile too salty, but I think its a wholesome burst of umami that is perfect for those days you need some help perking up.
海鲜煮粥 HAI XIAN ZHU ZHOU
Address: 233 Yishun Street 21, Singapore 760233
Hours: (Thurs-Tues) 6am–3.30pm
Munchi Delights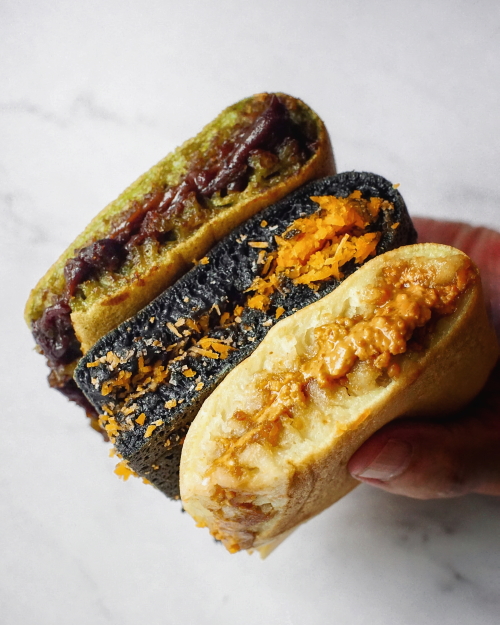 Min jiang kueh are a sweet memory from many people's childhoods, and Munchi Delight is here to make them cool again. Soft and chewy with gluts of ingredients, their min jiang kueh ($1.20) are nice little treats for your sweet tooth.
For their more modern offerings, you can try out their matcha red bean variation, basically like the classic red bean min jiang kueh with just the faintest matcha notes to keep it interesting. A bit reminiscent of matcha azuki.
Munchi Delights
Website | Facebook | Instagram
Address: Yishun Park Hawker Centre, 51 Yishun Ave 11, #01-43, Singapore 768867
Getting There: Take a bus from Yishun
Hours: (Tues-Sun) 7.30am–9pm
Price Range: $2-$5
Huat Kee Kway Chap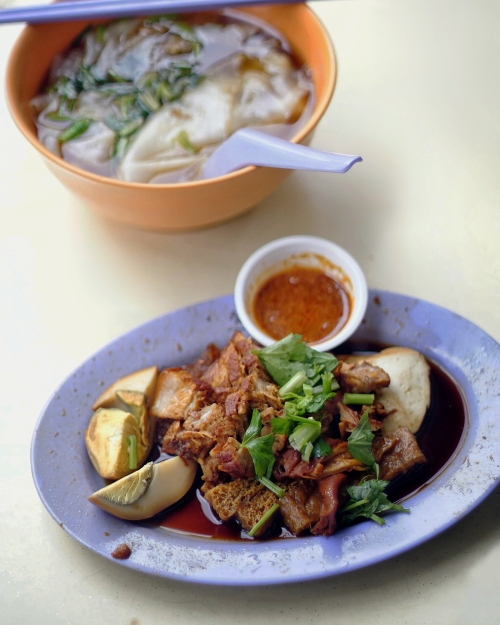 Maybe those psychopath memes weren't baseless, because here's another great organ dish. This old school kway chap ($4.50) stall has shifted around Yishun but their popularity hasn't waned yet.
Every component on the platter was tender and tasted stunningly clean. The sweetness of the herbal braise sauce was very enjoyable, and in particular went really well with the soft intestines.
Delciate chewy sheets of rice noodles soaked in a daintily light soup also gave a nice complement to the heavier flavours. The entire dish was gentle on the palate and I might have even liked it more if the braise sauce was slightly richer.
Huat Kee Kway Chap
Address: 171 Yishun Ave 7, Singapore 760171
Hours: (Thurs-Sun) 6:15am–2pm
Heng Hua Restaurant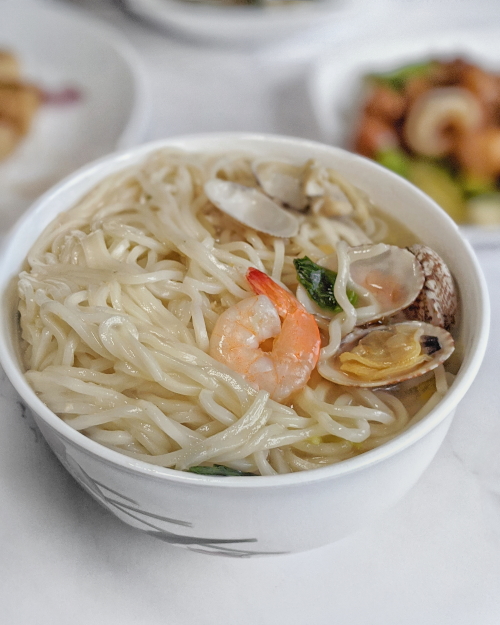 Everyone loves Michelin-starred Putien, but it's not very affordable. Luckily for Yishun residents, Heng Hua is a great alternative that serves pu tian cuisine at wallet-friendly price points.
The must-orders are the signature lor mee ($4.50) and stir-fried yam ($10). In particular, the yam is sweeter than Putien's rendition, sporting a bit more caramelisation. Not as airy in texture, but still very fluffy. Simple but so satisfying.
Heng Hua Restaurant
Address: 748 Yishun Street 72, #01-212, Singapore 760748
Hours: (Daily) 11am-11pm