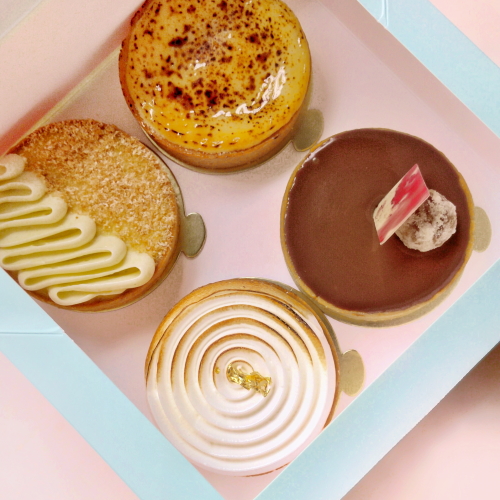 Works of art From Les Amis Pastry chef, Tarte by cheryl koh is the manifestation of a seasoned patissier's soul.
Les Amis — le creme de la creme of Singapore's food scene, with three Michelin stars. At the heart of its pastry creations is Cheryl Koh, crowned Asia's Best Pastry Chef in 2016.
I might not be bourgeoisie enough to dine at Les Amis, but Tarte by Cheryl Koh is her endearing alter ego made to be accessible to the masses. As pastry should be, like in Paris itself.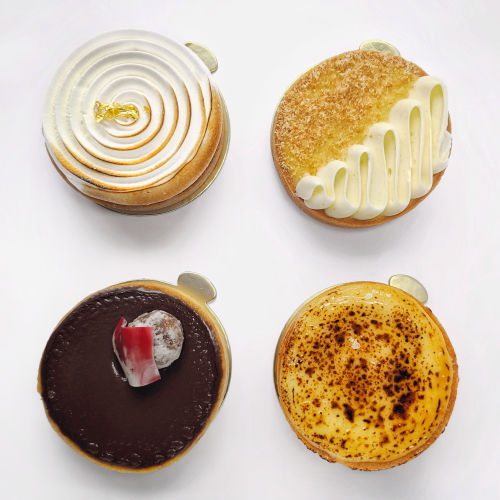 I received these from a friend during circuit breaker so I could dine at home, though there shouldn't be discrepancies from dining in. The careful use of tape and melted sugar worked wonders as the tarts arrived in perfect condition.
Tarte by Cheryl Koh's creations are inherently elegant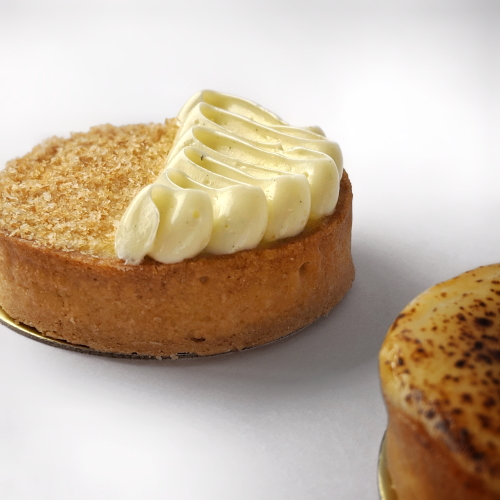 First up is a classic and my initial introduction to Tarte by Cheryl Koh — the pandan coconut tart ($8). Tarte's underlying principle is elegance and letting the ingredients speak for themselves, and it shows.
The classic pairing of pandan and coconut was pushed to its zenith with a deftly negotiated breadth of fragrance and sweetness.
The naturally complementary nature of the two ingredients shone with a simple and balanced richness on the palate. The buttery and flawlessly-textured tart base then bolstered it.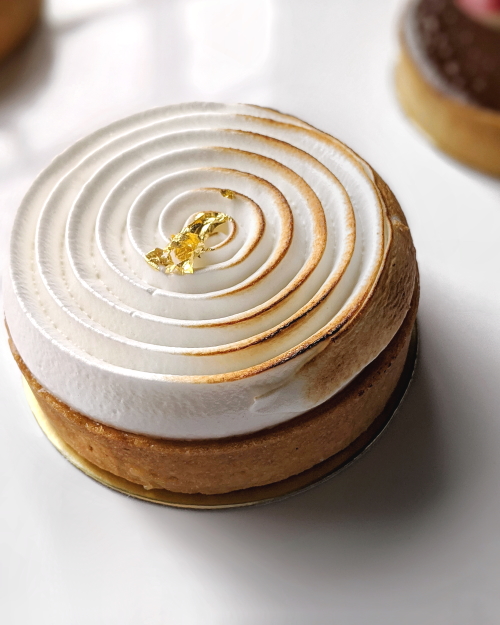 Adorned with beautifully charred meringue and a lone gold flake, the lemon meringue tart ($8) was deceptively energetic. The lemon filling delivered a zesty punch, and its viscosity mingled with the fluffy meringue and tart quite harmoniously.
That sourness might prove too feisty for some even though I enjoyed it.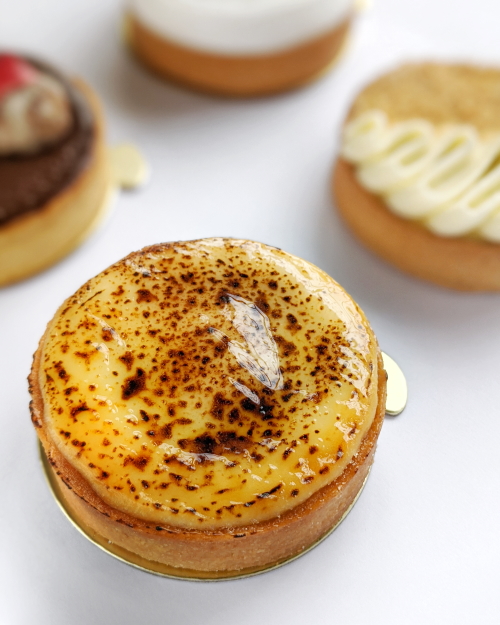 The baked cheese tart ($8) was also quite charming. Once a red hot local trend, cheese tarts are now relegated to scant outlets of copycats. it's interesting to see a luxe take on it.
I enjoyed this leopard-spotted and mildly sweet cheese and its starkly superior tart base. Still, with little improvements besides craftsmanship, it's hard to justify the price.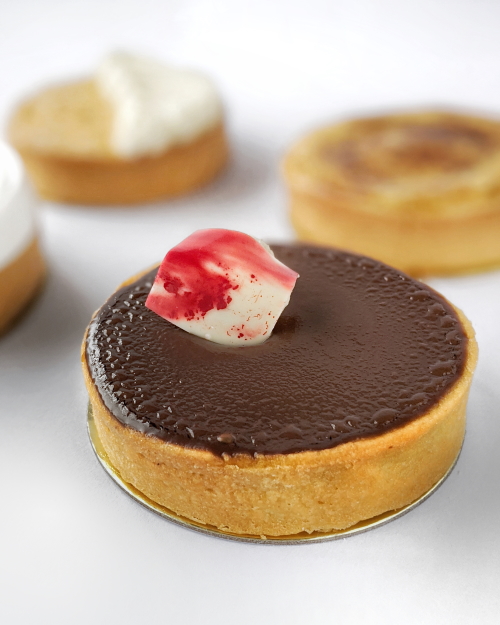 Finally, the dark chocolate tart ($10) was a tart worthy of my namesake. Indulgence in spades as the rich milk chocolate smoothly layered over caramel and macadamia.
A tasteful richness but not overly extravagant, in line with the understated elegance that seemed to pervade Tarte by Cheryl Koh's creations.
Simple classic Virtuosity Reigns
If you want simple tarts assembled with virtuosity, Tarte by Cheryl Koh provides elegance without superfluous embellishments for the sake of standing out.
In romance, sometimes a solid dependable choice is as attractive as a quirky fun one — and tarts are quite romantic creations.
You can order here.
Tarte by Cheryl Koh
Website | Instagram | Facebook
Address: Shaw Centre, 1 Scotts Rd, #02 – 12, Singapore 228208
Getting There: Approx. 10 mins walk from Orchard MRT
Hours: (Daily) 11am-6pm
Price Range: Approximately $10-$30 per pax